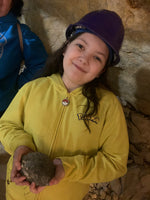 Meet Hana Jae!
Hana is the star of our small mom and pop rock shop specializing in the amazing minerals, fossils, and gemstones found in Tennessee! We are avid rockhounds who enjoy learning about what can be found in and around our amazingly diverse state!
Gemstone Mining
We offer enriched gemstone mining, at our indoor gem trough. Currently we have 4 bucket options:
$20 Starter
$30 Gem/Fossil
$50 Precious
$100 Collectors

All buckets can be packed in bags to go, or shipped.

We are not currently offering birthday parties in store, but can provide materials for parties at your location.
Our Mission
We plan to instill a genuine interest in gemstones and minerals through an interactive "mining" experience, where water separates the ore revealing the amazing stones you get to keep! We also enjoy cracking geodes that we collect here in Tennessee, as well as ones that have been imported from famous geode locations around the world!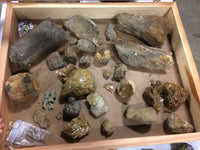 Are you aware??
Tennessee is home to over 70 commodity minerals, 185 valid minerals, and over 40 types of rocks! Not to mention the many different fossils found in the state, including dinosaur bones and Amber!
Elmwood, Tennessee
Tennessee is also home to Elmwood, a currently running Zinc mine. This mine consists of three shafts that produce world class Fluorite, Calcite, Sphalerite, and Barite specimens! The Zinc mined from these sites then produces Cadmium and Germanium as by-products!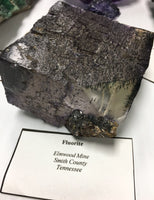 2416 Music Valley Dr.
Suite 102
Nashville, TN. 37214
Thursday-Monday 10am-5pm(ish)
Retail closed Tuesday/Wednesday
Wholesale by appointment.
(may close early due to retail traffic/ weather/events).
Text : (615)481-7909
to verify business hours